What is Clinical Research as a Care Option?
At Medullan, we champion the need for a paradigm shift to what is called Clinical Research as a Care Option, or CRCO. This patient centered approach is a significant departure from the current state of clinical research, one that is transactional in nature and often siloed off from hospitals and providers.
In the past, clinical research has been stigmatized as slow, expensive, and incredibly non- patient friendly. But, enabled by digital solutions, we're seeing fast progress in making clinical research more patient-centric, accessible, cheaper, faster, and more flexible. CRCO is about engaging everyone involved in the clinical research – patients, providers, sponsors alike – to develop a clinical research ecosystem that is effectively a care pathway option available to patients when determining treatment – a part of the care delivery system throughout the world.
Why is CRCO so important?
The answer is probably best summed up by one statistic: Only 1% of the patient population in the U.S. is estimated to participate in clinical trials. Even in cancer, the most actively researched category in clinical research, less than 3% of patients participate. This is an astonishing figure when you consider how much of the world of healthcare, medicine, and the delivery of innovation is reliant upon the successes (and failures) of clinical research.
CRCO would change the equation for patients, more closely involving them in trials and rebalancing the value for them to participate, not just as "subjects," but as involved individuals who have access to and understand their own data. CRCO would also integrate research into the continuum of care, accelerating the speed of therapy innovation and reducing costs. This is a win-win for everyone.
How could CRCO benefit all of us?
For companies developing new therapies, and for patients, the adoption of CRCO as standard clinical practice would have dramatic ecosystem impacts, including:
1. Pharmaceutical companies could accelerate clinical research and cut R&D costs dramatically.
Despite all of the technology on the market today, Eroom's Law persists, the R&D cost to get a new drug to market is still going up. However, the acceleration of clinical trials could drastically reduce costs, as could improved recruitment methods.
The single biggest area of potential in digital health is patient engagement and retention in clinical trials. Right now, only 6% of clinical trials are completed on time – primarily because of engagement and retention failures. The lack of both simple and sophisticated ways to monitor disease states, a patient's mind set, and risk points of the trial means that 72% of trials are over a month late in completion, if they are completed at all.  
We already know that digital health helps accelerate preclinical studies and pilots, by removing the need for actual study sites and by making them more accessible for any size or distribution of population. Add that to the fact that digital health can also accelerate recruitment and onboarding (which accounts for 40% of the $45B spent on US trials each year), and the fact that digital health increases patient engagement and retention… and the potential is amazing.
We are seeing digital channels, such as social, drive identification of recruitment clusters, to raise awareness with patients, and to open up new partnerships. A great example of this is PatientsLikeMe, which has emerged as a strong partner for numerous biopharmaceutical researchers.
For pharma to continue their investment in life-savings therapies, we must cut the cost of getting those therapies to market. Deploying digital solutions with the right clinical operation patterns has proven to move the needle in this area. CRCO builds on these initial trends, and turns faster more effective clinical research, by applying the research outcomes faster back into the care delivery system.
2. Provider organizations would be able to evolve into Learning Health Systems that deliver patient-centered care.
Reforming standard clinical trial protocols more quickly, based on learning in clinical trials, could reduce the lag time between incredible findings and the release of those findings into the market. Patients would then have access to impactful new therapies sooner within a CRCO system, and increasing the number of participants enrolled in clinical trials would dramatically improve opportunities for large-scale learnings and quick reassessments of trial direction and content.
3. Patient populations would gain quicker access to treatment never before considered or accessible.
Right now, most patients try several treatment plans before they land on a successful one. They can spend years trying one therapy after another before finding an appropriate fit. But in a CRCO system, consumers wouldn't have to play this trial and error game. Ideally, in the future, a provider could simply look up a patient's genome, determine that a certain therapy would not be effective, and move onto the next therapy.
How do we get there? This has much to do with precision medicine and the consumerization of genetic counseling. Now that patients have access to their own genetic information more easily and cost effectively than ever before, this information can also be integrated more easily into clinical studies as well. Integrating a population's genetic data into clinical studies introduces the possibility of validating the success of therapies, based on individual sequences. With CRCO, you make it possible to get these powerful therapies into the hands of providers more rapidly and available to patients as a care option.
4. New research would engage patients in their own health and well-being.
A study completed by PMG Research indicated that upon completion of a clinical trial, 95% of patients reported feeling more engaged with their overall well-being and more committed to their health than they were prior to their involvement in the study. Add this to the fact that access to one's own health data can also improve health and behavior, and a CRCO model could help us dramatically improve population health overall.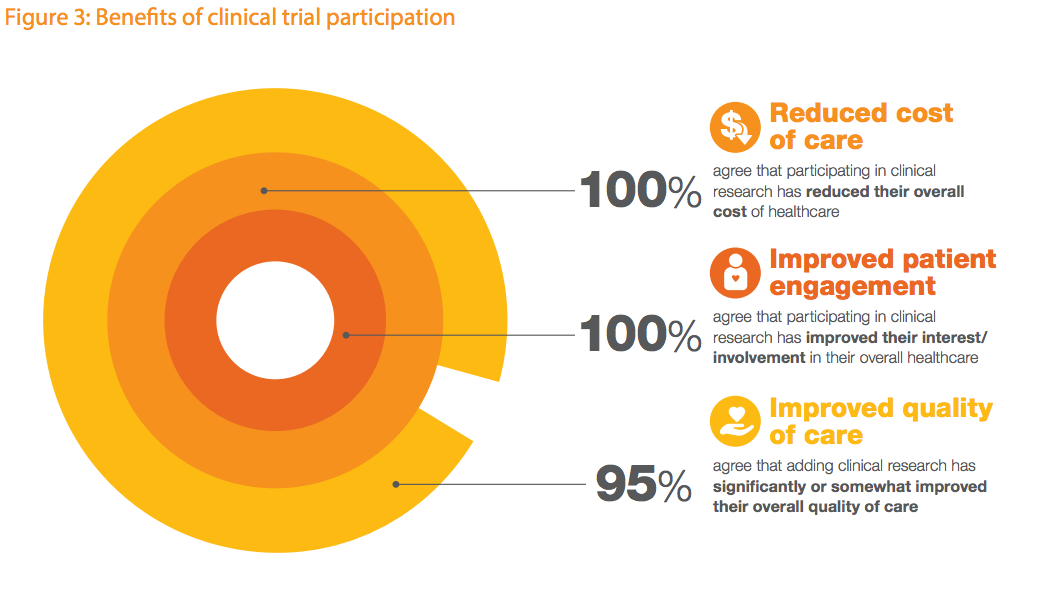 How can we get there?
While CRCO may cause disruption for certain parts of the clinical trials value chain i.e. traditional Clinical Research Organizations (CROs),  this pivotal shift is visible on the horizon.
In order to deliver the goals of CRCO, we need to embrace the following shifts:
A move to Adaptive Study Designs from "traditional" RCT Design

A move to Big Data Prescriptive Analytics from "traditional" Predictive Analytics

A move to digital PROMs and Connected Devices from "traditional" ePRO and EDC systems

A move to Personalized Medicine from "traditional" Cohort-or-Population-driven Medicine
The pace of change is accelerating in patient care, given the evolving importance of sophisticated digital health solutions, the acceptance of more flexible research protocols, and a patient eager to participate if the process can work for them, the paradigm shift is nigh. CRCO is one potential outcome of effectively combining these amazing trends together. All of this will make for long-term, sustainable optimization and evolution in clinical trial operations and care delivery overall.